Process Measurement - a way to mirror, monitor and control Profit in a company.
By consistently express all processes with a fixed chain structure you also get effective decision support.
Measurement of processes monitors how fixed costs are "variable" in relation to how capacity is utilized. And the variable costs are "fixed" in the short term as long as a batch of raw materials is used the variable costs are fixed for that batch.
Below you see a model of how processes can be connected into a resultnetwork - R-net.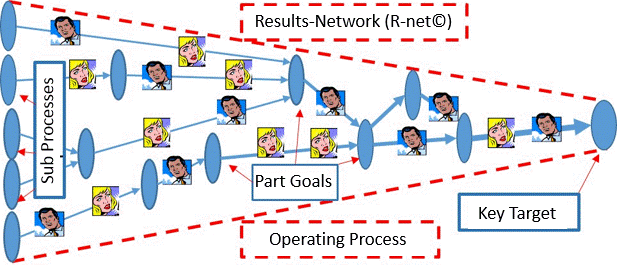 Advantages of monitoring and control a company´s business processes.
If using a soft ware like our ProfitFinder you can get the following:

Business processes in terms of economic decisions terms - from "order in to customer to orders out to customer." ProfitFinder supports a profit-driven approach in which result targets can be sat into the work processes.
Administrate via Agenda "economy-do list" and projects with economic focus. The logbook serves as a CRM system. Information on products, services and resources and customers can be logged on important information. There is also a whiteboard for discussions between staff in the various processes to support a goal-oriented team collaboration. The agenda is also designed to distribute information about the strategy and plans. Both the Agenda, and Whiteboard are open for interactive communications within the company and via the web.
With the new R-net© all personal in each subprocess can connect and get feedback on their performence related to subgoals and give actual status on their result.